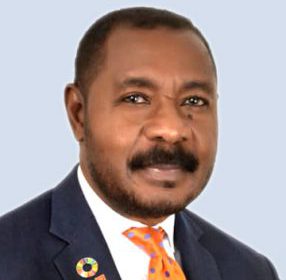 Nana studied at Saint Francis College in Brooklyn, in the USA for his first degree in Economics in 1977 and followed up at Fordham University Graduate Arts and Sciences with graduate studies in International Finance.
Nana has had an extensive banking career in the USA, from 1972-to 2003, notably with the Federal Reserve Bank of New York, New York State Banking Department, and the Federal Home Loan Bank of New York. Nana later joined the investment banking division of JP Morgan Chase.
On his return to Ghana, Nana served as a Technical Assistant to the Economic Management Team at the Senior Minister's Office from 2003 -to 2005. At the same time, he doubled as a Technical Advisor to the Minister of State for Economic Planning.
In 2005, Nana was appointed the first Chief Executive Officer of the Venture Capital Trust Fund (VCTF) where he leveraged the Government's endowment of GH¢22.4 million to partner with private sector investors, including some European Equity firms, to create five Venture Capital Funds with the private partners contributing an additional GH¢40.5 million.
In June 2011, Nana was appointed the Chief Executive Officer of the Private Enterprise Federation and is currently in the post.
Nana serves on the Boards of a lot of both public, private and research organizations both local and foreign: He is the Chairman of the Food Research of the Ghana Council of Scientific and Industrial Research (CSIR), Chairman of the Institute of Applied Science and Technology (IAST) of the University of Ghana, Chairman of Ghana Anti-Corruption Coalition (GACC), Chairman of Good Governance Africa (GGA-West Africa Chapter) Member of the Steering Committee of the Global Forum for Agricultural Research (GFAR) an FAO affiliate, Member Steering Committee Of Institute of Scientific Social and Economic Research (ISSER) of the University of Ghana. Member of the Board of the Ghana Investment Promotion Centre (GIPC) and Member of the Management Board of the Ghana Road Fund to mention a few.
Nana serves as the Executive Director of the Pan Africa Agribusiness Apex Chamber (PAAAC) and a member of the PAAAC Steering Committee.