Translating investment into economic success
Representatives from German and African agribusiness, consultancy and politics discussed further progress in the African agrifood sector at the German-African Agribusiness Forum.
Agriculture is Africa's largest economic sector. But as yet it has only managed to attract 15 per cent of foreign investments – far too little a share, in the opinion of the German-African Business Association (Afrika-Verein der Deutschen Wirtschaft). At the 7th German-African Agribusiness Forum in late January 2021, organised as a virtual event by the Afrika-Verein and the German Agribusiness Alliance (GAA), the focus was on how policy strategies and private sector engagement can be aligned to leverage investments. For these are needed more than ever to bring about a fast recovery of the African agrifood sector, which has been hit so severely by the coronavirus pandemic.
Joint business – a matter of trust and mutual understanding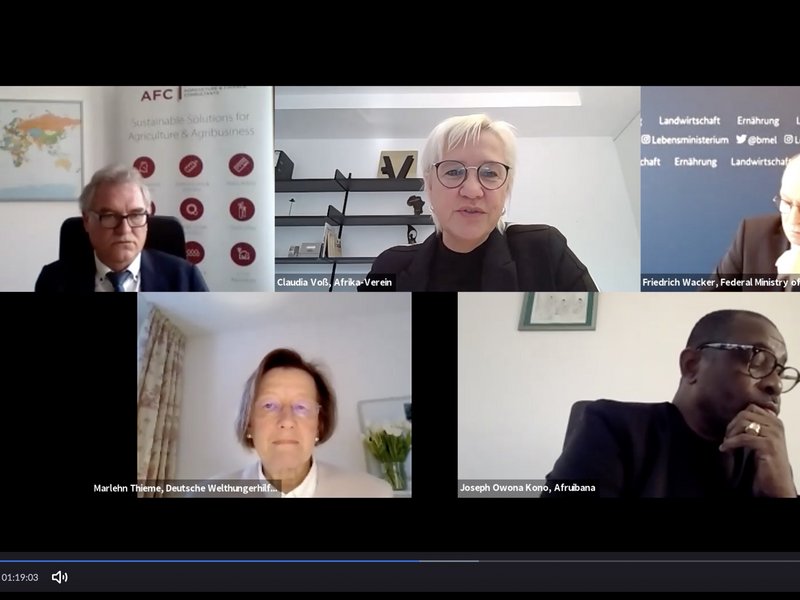 "Money isn't the problem," says Johannes Buschmeier, Managing Director of AFC Agriculture and Finance Consultants, who are represented in Africa with around 50 projects. For it is sufficiently available in the branch. However, Buschmeier explains, unlike bankers, farmers don't think in figures. In his opinion, what is lacking is an appropriate framework and talking to each other in order to understand what the other side's requirements are.
Markus von Busse, of Worlée Natur Produkte GmbH, also referred to establishing and maintaining reliable business relationships as the biggest problem in joint business activities. The company, based in Hamburg/Germany, sells dried raw produce, including fruit, spices and herbs. A common understanding of doing business, of reliability and of the standards which are fundamental for foreign investors, such as food safety and no risk concerning social responsibility, was necessary. "We are interested in long-term relationships," the entrepreneur stressed.
In order for these to benefit both sides, international companies investing in the African agrifood sector should create job opportunities for people in the vicinity instead of only bringing along their own staff, maintains David Tsegaye, General Manager of the Ethiopian Chefe Buluk Farmers's Cooperative Union. And they should perform side-activities which help communities, such as setting up health centres. In his view, key challenges for joint business activities include access to land, skilled manpower (companies enter with modern equipment and then have to cover the cost of training people) as well as the availability of money, for it takes international companies much time to be provided with money in local currency by banks. Tsegaye told the meeting that bureaucratic obstacles also put off many an investor. Buschmeier suggested introducing a round table between business actors and government to a create business-friendly environment with clear rules.
A one-stop platform for agribusiness
The newly founded Pan African Agribusiness Apex Chamber (PAAAC) is one additional form of support for potential investors. As an independent virtual platform for agribusiness, it seeks to bring together all actors in order to make entering the market as easy as possible for investors – timely and without red tape. For example, via the web-based platform, a buyer interested in sourcing avocados could submit a request and thus directly get in touch with potential suppliers, and throughout Africa at that, explained Daniel Gad, member of the PAAAC Steering Committee.
Joseph Owona, President of Afruibana, a pan-African association of fruit producers and exporters, reminded the meeting that trade must be fair and represent a win-win situation. The latter became apparent in banana-growing, too, for it was also providing employment in Europe, for example in ports or in the ripening centres. It was important to create jobs for young people in rural areas as well. "We have a lot of young people who are keen to deliver," said Owona, confirming that they were eager to invest in the sector – provided that the framework conditions were in order.
Combating hunger mustn't be neglected
"Yes, Africa has lots of investors, but you have to turn investment into economic success," said Friedrich Wacker, Director General EU Affairs and International Cooperation at the German Federal Ministry of Food and Agriculture. Open markets were a key prerequisite for this. Here, Wacker welcomed the African Free Trade Area, which was launched on the 1st January 2021, as "a huge step towards economic development in the region". However, despite all the business activities, one must not forget that they had to be inclusive, too. "We mustn't forget the smallholders," Wacker reminded the meeting. Otherwise the goal of eliminating hunger world-wide would not be achieved.